The Best Hunting Locations In South Australia
South Australia offers outstanding hunting for introduced and game species across varied environments. From rugged mountain ranges to semi-arid scrublands, coastal heath to grassy woodlands, there are habitats harbouring rabbits, deer, ducks and more. 
Both experienced, and novice hunters can access thrilling stalks pursuing foxes through low mallee or traversing hillsides for sambar deer.
Conservation hunting helps control pest populations like cats and rabbits while providing recreation. Several reserves and parks carefully manage hunting access for this purpose. 
Others allow multi-day remote camping hunts to fully immerse in the bush. Each location in this list provides quality hunting coupled with beautiful scenery.
The following sections provide details on 10 top spots to target games in South Australia. They cover key species, terrain, required permits and tips to make the most of a hunting trip. 
From quick day hunts close to Adelaide to week-long camps in the Outback, there are fantastic options here for all hunters.
Fleurieu Peninsula
The Fleurieu Peninsula is a premier hunting destination located just south of Adelaide. It boasts incredible diversity across its landscapes. Coastal cliffs and beaches lead to rolling farms, wetlands, dense bushland and forested ranges. This variety of habitats makes the peninsula home to rabbits, foxes, cats, deer and abundant birdlife.
For deer hunters, the Deep Creek Conservation Park in the southern Fleurieu is a top spot. It covers over 90,000 hectares of rugged country with populations of fallow and red deer. 
Hunting permits are required, and the season runs from February to October only. The park offers multi-day wilderness experiences with deer tracks to follow through forests and across open hillsides.
Smaller parks like Lake Robe Game Reserve provide great walk-in hunting for pest species like rabbits and foxes. 
The coastal scenery is hard to beat, with sandy tracks winding through low heath. Duck hunting is also popular on the Fleurieu's wetlands during the open season. Overall, the peninsula provides an awesome habitat within easy reach of Adelaide.
Mount Lofty Ranges
Stretching north of Adelaide, the Mount Lofty Ranges contain excellent hunting opportunities less than an hour from the city. While largely comprised of private farmland and national parks, there are specific public areas open to hunters.
The standout is Mount Crawford Forest in the northern ranges. This area allows sambar deer hunting by permit within designated zones. 
The steep ridges and gullies blanketed in stringybark forest offer challenging stalking terrain. Sambar is in peak physical condition during autumn here.
For smaller games, the Cleland Wildlife Park enables conservation hunts on certain open days. Under instruction, hunters work in groups to help control rabbits, foxes and feral cats within the park. The forested hills provide an accessible taste of bush hunting close to urban areas.
Tolderol Game Reserve
In the remote northeast of South Australia, Tolderol Game Reserve provides premier outback hunting. The 120,000-hectare reserve spans spinifex grasslands, rugged ridges and stunted mulga scrub between the Flinders Ranges and Lake Frome. A high-clearance 4WD is a must for accessing the corrugated tracks into hunting zones.
Tolderol is managed specifically for conservation hunting. It allows year-round takes of goats, foxes, cats, rabbits, hares and wild dogs. The challenging, arid terrain provides stalking opportunities requiring skill. 
While facilities are minimal, the reserve enables multi-day hunts with bush camping permitted. Make sure to bring ample supplies of water and fuel when venturing into the far reaches of Tolderol.
Chowilla Game Reserve
Chowilla Game Reserve protects 25,000 hectares of the River Murray floodplain where it meets the Darling River. As well as conservation, it offers limited hunting in certain zones. Access is walk-in only here, with no vehicles permitted.
Prime targets include foxes, rabbits and hares. The grassy woodlands interspersed with wetlands make for great stalking on foot. Duck hunting is also permitted in season on designated ponds and creeks. High-visibility clothing is mandatory while hunting.
The remote setting means self-sufficiency is required at Chowilla. Hunters need to be fully prepared with camping supplies. 
The advantage is the ability to immerse in the tranquil wilderness, pursuing game for days without encountering another person. Just beware of snakes and other nasties drawn to the waterways.
Moorook Game Reserve
Moorook Game Reserve lies between the Murray River and Lake Alexandrina, east of Adelaide. It covers over 20,000 hectares of beautiful grassy woodland and samphire flats. There are great opportunities for walk-in hunting of rabbits, foxes and cats.
The open terrain provides longer visibility but less cover than wooded areas when stalking. Hunting dogs can be highly effective in the reserve. Their ability to flush prey from grassy areas and retrieve quarry is a bonus.
4WD camping is permitted in designated zones within Moorook. The scenic lakeside location makes it a peaceful setting to base hunting trips. 
A highlight is watching the stunning sunsets across Lake Alexandrina at the end of each day in the field. Just be prepared for the seasonal crowds of tourists that flock to the region.
Loch Luna Game Reserve
For hunters who enjoy coastal environments, Loch Luna Game Reserve near Robe is a great option. Located on Lake Robe and the Southern Ocean, its 2,200 hectares include sandy heaths, wetlands and grassy banks. The habitat provides shelter for decent numbers of rabbits, foxes and feral cats.
Access is walk-in only through the reserve, meaning hunters need to be self-sufficient on foot. The coastal scenery provides a picturesque backdrop with views over the water possible from elevated dunes and banks. Good fitness helps cover the ground here with loose sandy trails.
Loch Luna allows camping, making multi-day trips easy. A great option is combining mornings hunting the heaths with afternoon fishing trips on Lake Robe or the nearby beaches. Just remember to pack the insect repellent during the warmer months when mosquitos swarm.
Currency Creek Game Reserve
Another coastal reserve worth visiting is Currency Creek, less than an hour south of Adelaide. It spans 7,700 hectares between the Finniss River and Lake Alexandrina. There are grassy woodlands, samphire flats and coastal dunes sheltering pest species like rabbits, foxes and cats.
Access to hunting areas is walk-in only through scenic trails. The open grassy areas combined with low coastal vegetation allow for longer sight lines when hunting compared to dense bushland. Permits available over the counter make Currency Creek convenient for quick trips from Adelaide.
Camping is permitted in certain zones within the reserve. The proximity to the ocean provides cool sea breezes in the hot summer months. Sunrises and sunsets over the water make for spectacular backdrops when hunting the coastal heath. It is certainly one of the most picturesque areas to pursue game in South Australia.
Lake Robe Game Reserve
Similar sandy landscapes can be found at Lake Robe Game Reserve just northwest of Robe township. The 630-hectare reserve borders Lake Robe and the Southern Ocean. Its undulating dunes, grassy flats and stands of low trees provide an ideal habitat for introduced species.
Rabbits, foxes and feral cats are common. Access is by foot, with no vehicle access permitted. The sound of the ocean is always present, adding to the serene atmosphere. Care must be taken around lake shorelines and wet areas where the sandy substrate can turn to mud.
Lake Robe Reserve has basic camping available, making it suitable for overnight hunts. The proximity to Robe township means stores and pubs provide comfort at day's end. 
But days spent roaming the sandy landscape away from any crowds make the reserve highly appealing. The simple pleasure of a beach walk or swim after successful hunts here is hard to beat.
Deep Creek Conservation Park
The iconic Deep Creek Conservation Park in the southern Fleurieu Peninsula offers true wilderness hunting. Covering over 90,000 hectares, it stretches from rolling farmlands to dense coastal bush studded with granite outcrops. Deep Creek provides an awesome habitat for introduced deer and pest species.
The park allows seasonal hunting of red and fallow deer with permits required. The rugged terrain provides challenging access and tracking for deer. 
Remote multi-day hunts are possible, with bush camping allowed in designated zones. Hunters need to be fully self-sufficient while accessing the park's interior on foot or by 4WD.
For small game, populations of rabbits, foxes and feral cats provide stalking opportunities. The varied landscapes mean adapting hunting strategies across open hills, thick scrub, forests and heathlands. Deep Creek is a must for hunters able to venture deep into South Australia's bushland on extended trips.
Coorong National Park
Stretching over 130 km along South Australia's south coast, the Coorong National Park provides premier hunting opportunities. 
Its landscape encompasses coastal dunes, mallee scrublands, samphire flats and brackish lagoons that together provide habitat for pest species. Foxes and feral cats stalk through the low coastal vegetation while rabbits burrow into the sand dunes.
Hunting access within the park is limited but possible with the proper permits. Priority is given to conservation hunting of foxes, cats and rabbits. Their numbers must be controlled to protect the unique ecosystem. Hunting is not permitted in designated sanctuary zones or near walking trails and campgrounds.
The terrain poses challenges for hunters. Towering dunes reaching over 30 meters tall can play tricks with sightlines. Dense thickets of mallee impede movements, while samphire marshes conceal holes and mud. 
Four-wheel drive vehicles provide the best means of accessing hunting zones, but walk-in-only areas are also provided.
Staying overnight in the park's wilderness while hunting is recommended. Multi-day hunts give time to cover ground away from the handful of roads traversing the vast landscape. Bush camping allows hunters to fully immerse in the Coorong's remoteness. 
Just be sure to carry all needed supplies, given the isolation. A successful few days of stalking foxes through shifting sands or waiting in blinds for rabbits makes the challenge all worthwhile.
Yorke Peninsula
The Yorke Peninsula is a diverse region for hunting, with its "boot shape" jutting into the Spencer Gulf north of Adelaide. 
The peninsula's scrublands, farmlands and coastlines are home to good numbers of foxes, rabbits and feral deer. Prime locations include Warrenben Conservation Park, Southern Yorke Peninsula farmlands and Port Victoria.
Warrenben Conservation Park consists of an excellent mallee habitat with sandy tracks winding through the low vegetation. Populations of foxes and rabbits thrive in the remoteness, providing stalking opportunities.
The park has designated vehicle-based camping for multi-day hunts. High clearance 4WDs can traverse deep into the mallee away from main roads.
Further south, private farmlands on the peninsula's foot occasionally allow permit deer hunting. Red deer thrive in the undulating croplands interspersed with stands of forest. Generations of deer make them extremely wary and challenging to hunt. Local knowledge helps considerably for new hunters.
On the eastern side of Yorke Peninsula, Port Victoria provides access for duck hunting. The tidal estuary contains reedbeds and mudflats where ducks congregate. Hunting is limited to season and requires boating or wading to concealed blinds along the shoreline.
Gawler Ranges
For remote bushland hunting, the Gawler Ranges in South Australia's far north provides rugged terrain holding populations of goats, rabbits, foxes, cats and wild dogs. Stony hillsides covered in Mulga scrub stretch over 2,500 square kilometres in the ranges northeast of Port Augusta.
Primary hunting locations include Paney Station Reserve and Pinkawillinie Conservation Park. Permits are required for conservation hunting of pest species. Access is largely limited to high-clearance 4WD vehicles capable of handling the rough dirt tracks and rocky terrain. Hunters need to be completely self-sufficient, carrying ample water and supplies.
The remote setting allows multi-day hunts dispersed into the vast landscape. Camping while hunting enables covering the ground and adding to the wilderness experience. The rocky outcrops provide vantage points to spot game silhouetted against the sunrise. The Gawler Ranges remain a wild and challenging paradise for experienced hunters seeking solitude.
Murray River
The mighty Murray River from Overland Corner to Waikerie offers scenic hunting grounds under towering River Red Gums. Rabbits, foxes and feral cats inhabit the woodlands and limestone cliffs along its shores.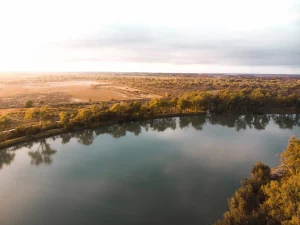 Access for hunting includes walk-in national parks like Katarapko Creek and boat passages remote from any roads or trails.
Public reserve hunting requires purchasing over-the-counter permits from the National Parks office. Some private farmland along the river also allows hunting with landowner permission. This enables more flexible access, including via vehicles.
The Murray lends itself well to multi-day hunts. Boats allow camping as you travel slowly downriver, stalking species along the banks. Currents pose hazards, though, so boat-handling skills are a must. Drifting silently in a canoe through misty dawn near limestone cliffs brings chances for great hunts.
Kangaroo Island
The iconic Kangaroo Island off South Australia's coast offers unique hunting opportunities. Several game species are present on the island's rugged bushland and farmlands. Commercial deer hunts are allowed in the western zone.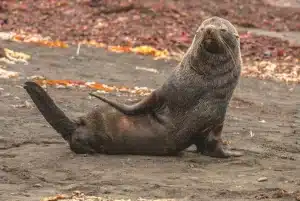 Conservation efforts permit the killing of seals and hunting rabbits, feral cats and possums in certain areas.
Kangaroo Island has vast tracts of protected wilderness in Flinders Chase National Park, prohibiting hunting. However, some reserves and private land allow permit hunting for pest control. The island's isolation adds appeal for multi-day hunts. Charters provide transport if hunters lack boats to reach the island independently.
Low vegetation and undulating terrain pose challenges in locating the game. Local knowledge and persistence help greatly. What Kangaroo Island lacks in quantity of animals, it makes up for with spectacular coastal views off the beaten track. Bush camps under the stars between hunts are tough to beat.
Learning how to shoot? Read: How To Shoot Down and Uphill
Conclusion
South Australia provides awesome hunting experiences across many different environments, from outback to forest to coast. Each location has its own appeal, from species available to terrain and accessibility. 
Remote reserves enable multi-day wilderness trips in far-flung corners of the state. Others provide quick getaways from Adelaide or opportunities to hunt less travelled areas.
This list of the 10 best destinations has hopefully provided some hunting inspiration. Now, it is over to individual hunters to research regulations, obtain permits and start planning future trips. South Australia's abundance of game awaits.
The locations detailed all provide quality opportunities to pursue game, whether for sport, conservation or pest control. From deer and ducks to rabbits, foxes and feral cats, there are abundant species available with proper permits.
With patience and preparation, hunters can experience fantastic days afield pursuing rabbits, deer, duck and more. Just remember to always hunt ethically, safely and sustainably to ensure the safety of yourself and others.