AAT Kings South Australia, AAT Kings NT
Enjoy 15 days of the Outback Adventure tour through Australia's rugged Outback with AAT Kings. A guided Premium Tour, featuring Flinders Ranges, Coober Pedy, Kings Canyon, Alice Springs, Tennant Creek, Kakadu National Park, Darwin.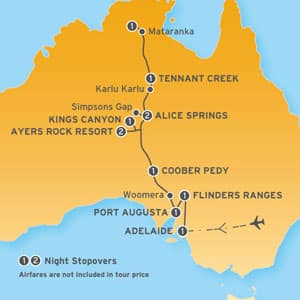 INCLUDED HIGHLIGHTS
Clare Valley wine tastings
Flinders Ranges
Explore Wilpena Pound
Tour Coober Pedy
Uluru (Ayers Rock) sunset
Uluru base walking tour
Kata Tjuta (the Olgas)
Climb Kings Canyon
Battery Hill at Tennant Creek
Visit Simpson's Gap
Explore Kakadu National Park
Yellow Water Billabong
Visit Crocosaurus Cove
INCLUDED Aboriginal cultural experience
'You are invited' experience
PREMIUM HOLIDAY INCLUSIONS
Quality Touring

Rooms with private facilities in quality hotels, on a twin share basis
Tour by luxury air-conditioned coach with 2-door access, restroom, seatbelts, reclining seats, panoramic windows
All purpose travel wallet and map
Porterage at your tour hotels
Airport transfers:
Day 1 – Flight from Adelaide Airport to arrive prior to 4.00pm
Day 15 – Flights anytime from Darwin

Professional Team

Experienced services of a professional Tour Director and Tour Driver

Included Meals

Welcome Drink
Full Buffet Breakfasts (14) B
Hotel Dinners (8) D
You are invited Dinner (1) D
Exciting Highlight Dinner (1) HD
Hotel porterage included
DATES & PRICES

15 Days » Adelaide – Darwin
Tour code NAAD

2014 » From $5,250 per person
(01 April 2014 – 31 March 2015)
2015 » From $5,375 per person
(01 April 2015 – 31 March 2016)
Travel Dates are subject to change due to bookings and availability.
Pricing may change without notice.Please contact us for Rates and Available Travel Dates.
SAMPLE ITINERARY – Itineraries are subject to change
Day 1: Arrive Adelaide
On arrival in Adelaide you will be transferred to your hotel. Theremainder of the day is at leisure to explore this gorgeous 'City ofChurches'. Why not ride Adelaide's historic tram from Victoria Square inthe city to the beachside suburb of Glenelg. This evening join yourTour Director and fellow travelling companions for a welcome drink.
Hotel: Crowne Plaza, Adelaide.
Day 2: Adelaide – Flinders Ranges
See the sights of Adelaide before we make our way north and samplesome local wines at Sevenhill Cellars, the oldest existing winery in theClare Valley. Travel through the spectacular Flinders Ranges and toWilpena Pound, a remarkable natural amphitheatre covering nearly 8,000hectares.
Hotel: Wilpena Pound Resort, Flinders Ranges. B D
Day 3: Port Augusta
Enjoy time to explore Wilpena Pound, before we travel throughpicturesque Pitchi Richi Pass to Port Augusta where we will visit theWadlata Outback Centre.
Hotel: Majestic Oasis Apartments, Port Augusta. B D
Day 4: Coober Pedy
Visit Woomera before travelling to isolated Coober Pedy, the opal capital! Visit an underground church and home.
Hotel: Desert Cave Hotel, Coober Pedy. B D
Day 5: Uluru (Ayers Rock)
We cross the border into the Northern Territory and continue toUluru – Kata Tjuta National Park. This evening enjoy a complimentaryglass of wine as the sun sets over the western horizon and the eveningsky brings out the many shades of colour for which Uluru is renowned.
Hotel: Desert Gardens Hotel, Ayers Rock Resort, 2 nights. B
Day 6: Kata Tjuta (the Olgas)
Rise early to view sunrise at Uluru. Enjoy a guided walk toMutitjulu Waterhole and stop at the Uluru – Kata Tjuta Cultural Centre.Travel to Kata Tjuta (the Olgas) and spend time exploring Walpa Gorge.Enjoy sunset at Kata Tjuta with a complimentary glass of sparkling wine.B
Day 7: Kings Canyon
Travel to Kings Canyon today. A guided climb to the canyon rim willbe rewarded with magnificent views of Watarrka National Park. Or youmay prefer to explore the canyon floor, an easier walk.
Hotel: Kings Canyon Resort, Kings Canyon. B D
Day 8: Alice Springs
Leaving Watarrka National Park behind, we travel through to AliceSprings. Our sightseeing includes a visit to the School of the Air,which provides an educational service for children living in remoteareas, and the Royal Flying Doctor Service.
Hotel: Chifley Alice Springs Resort, Alice Springs, 2 nights. B
Day 9: Aboriginal Culture
Spend time with a local Aboriginal guide at the Alice Springs DesertPark. You will learn of life and survival of the Arrernte People,including bush food, the search for water and kinship. Visit theNocturnal House and enjoy reserved seating at the Birds of PreyPresentation. Later, you'll visit the historic Telegraph Station andcontinue on to Simpson's Gap, a prominent waterhole in the WestMacDonnell Ranges, with its lovely river red gum scenery. You are invited to join us on a discovery tour at the Earth SanctuaryWorld Nature Centre. Enjoy dinner and afterwards hear from the Falzonbrothers, Tom and Danny, about the sustainable lifestyle they haveestablished. They may even lead you on a sing-a-long accompanied by thedidgeridoo and guitar. B D
Day 10: Tennant Creek
Travelling north we arrive at Karlu Karlu (Devils Marbles). Thereis time to walk around these precariously balanced boulders. On arrivalin Tennant Creek we join a local guide for a tour of the historicBattery Hill Precinct. Tour a mine and experience the life of an earlyminer. Tonight enjoy a delicious barbecue dinner at the Battery HillMine Centre.
Hotel: Bluestone Motor Inn, Tennant Creek. B D
Day 11: Mataranka Thermal Springs
Travel across vast outback stations. Visit the historic Daly WatersHotel, before continuing into 'Never Never' country. Stop at thetropical oasis of Mataranka for a relaxing dip in the thermal springs orstroll through the Elsey Homestead replica.
Hotel: Paraway Motel, Katherine. B D
Day 12: Katherine Gorge – Kakadu
Join our local guide on an early morning cruise through KatherineGorge in Nitmiluk National Park and then continue deep into KakaduNational Park. Later we cruise on the famous Yellow Water Billabong. Weshould see a variety of birdlife and with luck, we may also see thefeared estuarine crocodile basking in the muddy shallows.
Hotel: Gagudju Crocodile Holiday Inn, Jabiru. B D
Day 13: Darwin
We stop at Bowali Visitor Centre. The displays here will take youon a journey through Kakadu's varied habitats and landscapes. Travel toUbirr and view Aboriginal rock art dating back some 20,000 years. Climbto the top of this rocky outcrop for rewarding views over the floodplains and escarpment country. This afternoon travel to Darwin and enjoya sightseeing tour of this tropical city on arrival.
Hotel: Mantra Pandanas, Darwin, 2 nights. B
Day 14: Litchfield National Park
We travel to Litchfield National Park to see beautiful Florence,Tolmer and Wangi Falls and the mysterious Magnetic Termite Mounds. Dineout this evening at Crocosaurus Cove. Enter the world of the awesomeNorthern Territory saltwater crocodile. See the largest display in theworld of Australian reptiles, a two storey fresh water aquarium and aturtle sanctuary. B HD
Day 15: Depart Darwin
Your tour concludes this morning after breakfast. You will be transferred to Darwin Airport to connect with your onward flight. B
Ayers Rock Upgrade
Upgrade to a guaranteed Rock View Room at Desert Gardens Hotel. Book early – limited space – strictly subject to availability. Per person twin share for two nights $100.